Friendly Ghosts
Let Me Tell You About a Show I Love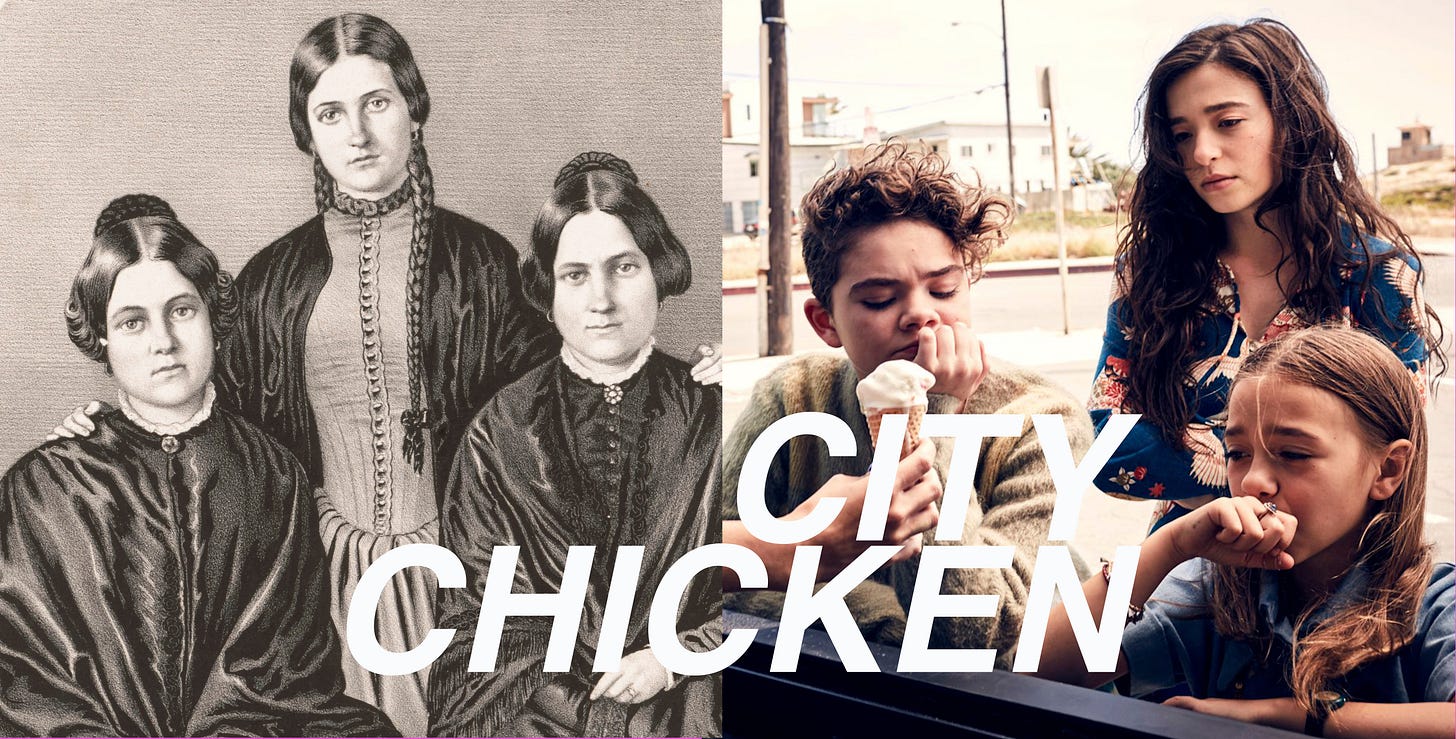 Readers who exist at the center of the very specific Venn diagram that describes my interests will recognize that the above image is comprised of a) late-nineteenth-century spirit mediums Maggie, Kate, and Leah Fox, aka "the Fox Sisters," and b) Frankie, Max, and Duke Fox, aka "the Fox Sisters," from the FX TV show Better Things. As I point out in the essay I published today at the Los Angeles Review of Books, some of these sisters can also speak to the dead. Classic City Chicken mix-em-up!
Anyway, because I just dropped an essay on my favorite television program today (READ IT AT THIS LINK!) I'll spare you a long newsletter except to,
a) implore you to read this essay even if you haven't seen an episode of Better Things, let the essay convince you to start watching Better Things, and then start watching Better Things (which is on Hulu). Pamela Adlon—who stars in the show, writes most of it, and directs every single episode—is one of the unheralded geniuses of contemporary TV. Here's an excerpt:
There are ways in which this show balloons and expands and dissolves what TV shows are supposed or expected to do. A number of the greatest TV series of the past several years have been invested in breaking form this way, but it's easy to overlook the degree to which Better Things belongs in their company.  It isn't a work of ambitious historical revision like Watchmen, a work of psychedelic convolution like The OA, or a work of occasionally surrealist deconstruction like Atlanta. And while it shares an interest in ghostly visions and women's lives with the best show currently airing on TV, I May Destroy You, it lacks that show's propulsive, fracturing energy.  The experimental style of Better Things is less conspicuous, but it's no less transformative. Better Things is, finally, a work of realism, but the "real" world of Better Things is stranger, spookier, and fuller of radiant love than most realist media would ordinarily encompass.
Anyway, and,
b) say a few words about writing criticism about a show when you're fairly certain most of your readers haven't seen it.
When I first started writing TV criticism in public, I did it for a place called Slant Magazine. Aside from occasional listicles, Slant didn't run think-pieces or reresearched longreads or episode recaps, it ran reviews of new and returning TV series on the day they premiered or returned. This, of course, is the traditional review style. The network shows you however many episodes of the show, you watch them, then you recommend or don't recommend the show to your readers relative to the promise of those early episodes. It wasn't until at least a year after starting at Slant that I started writing recaps or think-pieces or, as the case was for DearTV, letters about TV. I learned a lot about the advocacy work of criticism in that year.
But writing about Better Things is a different sort of advocacy. I wrote this essay in the knowledge that a lot of the readers who usually read what I write aren't already fans. And that's a hard bar to clear for a show that's been around for four years. Nobody's binging this series in a weekend. I wrote the piece over the course of the pandemic, but I've been rolling the idea around in my head for a couple years. The thing that's always stopped me from actually doing it was the single thought that: it's really going to bum me out if I spend a long time writing an ode to what I think is the best show on TV, and nobody reads it.
But then, I thought: it must be a bummer to make the show that I think is the best show on TV and end up with some dope like me who thinks, if I write about this, nobody's going to read it.
So, like I said, please do read it, please do watch it, and then let me know what you think!
Finally Watching // Lovecraft Country (HBO)
I really truly don't know what to say so far. Even if, as seems to be the case, this has a sort of Monster-of-the-Week X-Files structure, the beats of this series still feel pretty jarring. I've read people say that this series makes them glad that the season was serialized and not dumped all at once, but I think this is one I'd kind of like to marinate in for a few episodes at a time. Jurnee Smollett and Jonathan Majors are such compelling screen presences, and the show is visually stunning. Looking forward to next week.
Flagging (except the opposite of that, actually) // I May Destroy You (HBO)
We are definitely not flagging on this, but we saved up the last two episodes to watch at the same time, and really truly cannot wait. Everything this show tries to do—and it tries lots of things I've never seen before—it does in ways that are absolutely pulsing with energy and surprise. Everyone recommending this show to you is right.
Finally Finished // ???
Honestly, I'm writing this thing frequently enough that I don't think we finished anything this week. I think I finished figuring how who all the characters are on Dark, so that's something?
Recommendations //
Of the many horrifying aspects of this virus has been its disproportionate impact on African American communities—this has been especially true where I live in St. Louis. Keeanga Yamahtta-Taylor, newly installed at the New Yorker, wrote a necessary essay about this crisis. Please wear a mask.
On the topic of motherhood and work and the worlds that do and don't contain them, Jessica Pressman wrote an extraordinary essay about breastfeeding and Moby-Dick that I think you should read.
In putting together revised syllabi for teaching courses virtually this fall, I've been going back and forth on whether or not to teach William Faulkner's Absalom, Absalom! Evan Kindley gets at why that's such a fraught decision.
Speaking of teaching, I don't think I've ever been more nervous that I'd be able to do a book justice than I was the first time I taught Theresa Hak Kyung Cha's indescribable photo-text Dictée. I also can't remember a time when a classroom of students were more ready to try to figure out a book together. This essay gets at why that's so.
And, speaking about teaching a third time, when I first put my "Literature and Celebrity" syllabus together, someone recommended Danielle Evans' "Boys Go to Jupiter." It's a terrific story about social media celebrity and racial politics, and my students really responded to it. And, if preordering books is your thing, Evans has a new collection coming this fall.
Michael Z. Newman wrote for us at LARB about how NBA bubble basketball resembles the classical form of the sitcom, and it's really really good.
The essay I published about Better Things officially ends its tenure today as the Longest Simmering Essay Idea in my brain. It has since been ably replaced by the extremely long essay I eventually intend to write on the acting style of Kirsten Dunst. All the same, even I must admit Katie Baker did a really great job on that subject here.
I've really been enjoying Hip to Waste, the great critic Safy Hallan Farah's free newsletter.
This week's regional food curiosity is the concrete, which isn't necessarily regional anymore, nor has it been for a long time. You know about it, probably, in its national form as the "blizzard" at Dairy Queen (c. 1985). You may know about it in its Shake Shack version, but the invention of the concrete, allegedly comes from Ted Drewes Frozen Custard in St. Louis, which gave the creation its name in 1959. I'm a peanut butter cup guy.
A couple months ago, when we got an instant pot, I asked around for good recipes for it. Friend of the newsletter Jorge Cotte suggested this green chili chicken recipe. We tried it, and IT WORKS! (Also, for what it's worth, the Serious Eats recipe/test kitchen website in general just rarely misses—highly recommend.)
If you like this newsletter, please forward it to your friends or post this letter somewhere people you like will see it. Subscribing happens here, I'm on twitter dot com here, and I respond to every response I get, so please feel free to get in touch!
It's okay with me,
Phil.